Private labels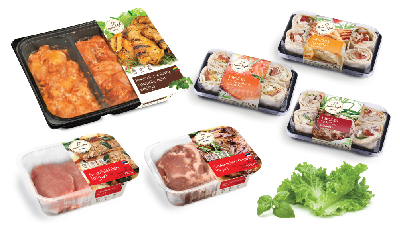 Our chefs' offers
Since 1997, Maxima's stores have offered fresh food made according to our chefs' best recipes. The MEISTRO KOKYBE (LT), MEISTARA MARKA (LV) and MEISTRITE KVALITEET (EE) brands include freshly prepared meat and fish, confectionary and bakery goods, salads and sandwiches – items for every occasion: when you are on the go, for everyday meals, for special events, and more.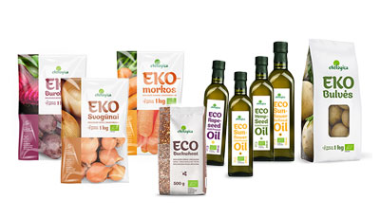 Eco/Bio products
Customers of Maxima Grupė's stores have enjoyed a wide range of organic products under the EKOLOGICA brand ever since 2010. That includes mainly fresh fruit and vegetables, but also oils, flour and more. Organic products are grown in sustainable ways, respecting the natural systems and cycles and abiding by the laws that regulate organic production. EKOLOGICA products carry the EU organic logo and specify where all ingredients were either produced or grown.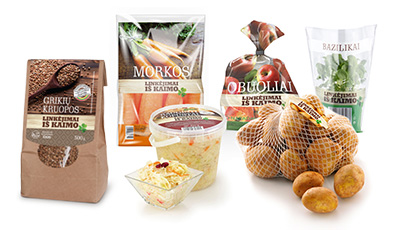 From the farm
The LINKĖJIMAI IŠ KAIMO ("Greetings from the farm") brand designates fresh, tasty, healthy and high quality products from local producers – small farms in Lithuania. We offer a variety of local fresh fruits and vegetables, local meat and dairy products, a wide range of local herbs and more. Local specialties like pickled cabbages and pickled cucumbers are also available under this brand name.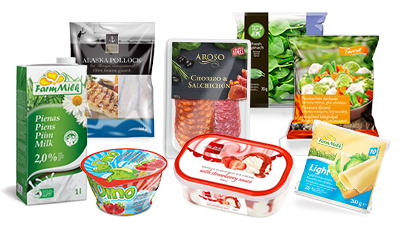 Fresh and frozen food
We offer a wide range of fresh and frozen products that you will find only at Maxima Grupė's stores. The SAULĖS PIENAS / SAULES PIENS, LAUKUVA and MUHE MUNA dairy and meat brands offer good-quality fresh local products. Brands like FARM MILK, MIO DELIZZI, DINO and AROSO, which are available in Lithuania, Latvia, Estonia, Poland and Bulgaria, ensure good quality and value for money. We also offer other fresh and frozen food items under brands exclusive to Maxima Grupė: TASTY HOME spices and salad items; FISH PORT high-quality fish products; the MELTEZ ROYALLER range of delicious ice cream; and MEGA DI CATO and TOP MANIA pizzas, fried potatoes and dumplings.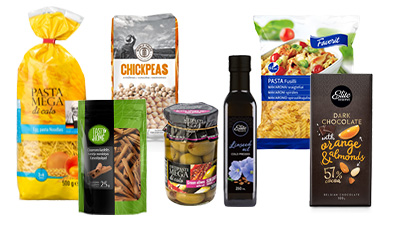 Groceries
We offer a wide and varied selection of grocery items. Our premium ELITE RESERVE brand offers sweet and savory treats, while MEGA DI CATO offers a taste of Italy, from antipasti to pasta of many types. Mid-priced brands such as FAVORIT, WORLD FIELDS and TASTY HOME help fill our customers' pantries with oatmeal, corn, cucumbers and the like. We also offer a selection of brands for more economically inclined buyers, looking for a good price-quality compromise on everyday ingredients.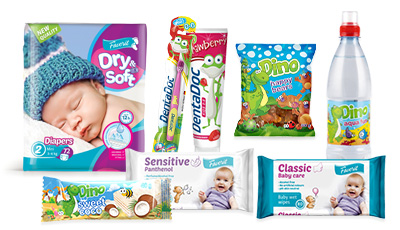 For kids
Customers of Maxima's stores can choose among many exclusive products for babies and children, from food to clothing. We offer high-quality diapers and wet wipes under the FAVORIT brand, dental care products under the DENTADOC name, and a large assortment of SEVEN LEMON clothes. The specialized DINO, DINI and PINO only-for-kids brands offer varied products ranging from notebooks for school to beverages as well as fresh and frozen food and snacks.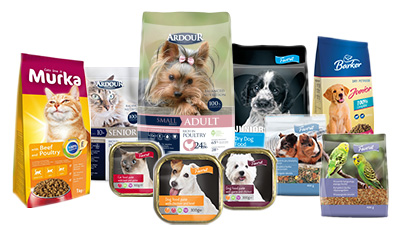 For pets
We have not forgotten, in our assortment of goods, about the 'best friends' of our customers. When it comes to pet foods, we offer a number of brands: premium ARDOUR-brand veterinary-approved cat and dog food, BARKER dry dog food, MURKA dry cat food, and a selection of products under the FAVORIT cross-category brand. We also offer economy segment pet food with a very attractive price-to-quality ratio.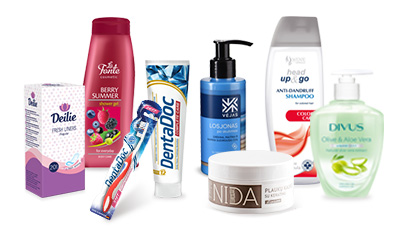 Beauty products
We offer a large selection of beauty products of varied types. That includes the LA FONTE, DIVUS, WENIE, DAILY, NIDA and VĖJAS brands of products for personal hygiene as well as hair, face and body care, and DENTADOC-brand dental care products.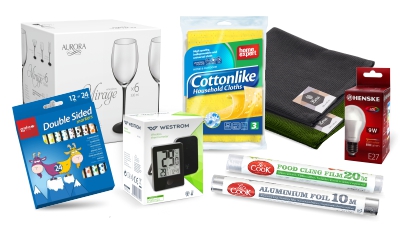 Non-food goods
Maxima Grupė's customers can choose from more than 4000 SKUs of non-food items in a wide range of price and product categories: SEVEN LEMON and COLLEXION clothing and shoes, HOME EXPERT and KAUFTECPRO household appliances, ELDORADO textiles, food preparation and serving items under the UNIWELL, LE COOK, and AURORA brands, toys, sports and more. We aim to always meet our customers' needs with balanced permanent and seasonal assortments.